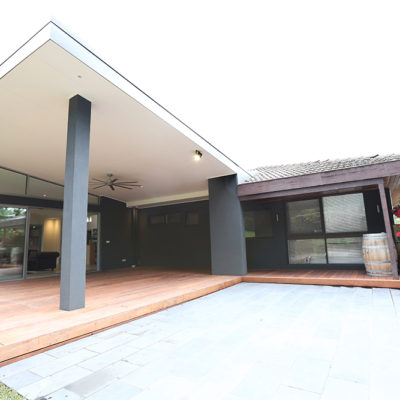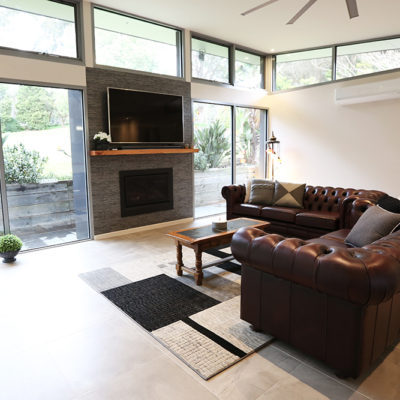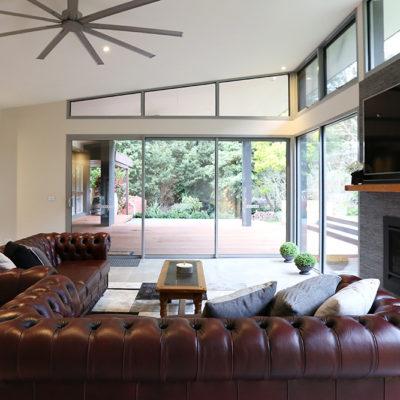 Our job was to build a brand new living room off our kitchen/meals area and to build an al fresco decking area next to that. Both areas were very large – approx. 36 sq metres each. We accepted the quote  from Ahead Building because it was the only one which gave us a clear idea of how the total price was arrived at, because Kev was so open to variations to the plan and because Kev was so willing to explain the building process and to research individual price components. In other words we felt we could work with Kev. 
Once the building project started, Kev had the various trades turning up every day to do their part and the project very quickly started taking shape. I was expecting there to be many days with nothing happening but I was very impressed with the way in which the project moved ahead every single day, often on weekends also.
Importantly Kev would call or text me every night to let me know which trades were attending the next day, at what times and for how long. 
Throughout the project Kev would consult me on all matters requiring a decision, eg. do you want to extend the decking to the steps, how do you want your lighting, where to put the power points, etc. pleasingly, associated with each question was a suggestion or some advice from Kev which we greatly appreciated. Kev always had a door brochure or a timber stains brochure to leave with us to help us in our decision making. Those suggestions and Kev's encouragement to do them made a massive difference to the end result. Things like suggesting that we render the walls and get the concrete paved made a massive difference. I'm the type that usually avoids the extra cost of those things, thinking 'I'll do it later' but later never seems to happen. For the first time in or lives we have an area of the house that is fully finished and looks like something out of a magazine. I still can't believe it's part of our house.  
The trades that Kev used, eg. plumbing, electrical, painting etc. were all very good and, importantly to me, were good people that I had no concerns about being at my home while I wasn't there.
Nearing the conclusion of the project Kev asked us to list anything we weren't happy with and he then arranged for everything to be fixed to the point where the job was 100% finished and perfect. I was really pleased by this approach because my past experience with tradespeople is that I expect to have to fix up all their mistakes. Kev left nothing for me to do other than enjoy our new living areas.
Overall, we couldn't be happier with the building process, the quality of workmanship and the end result. It has greatly exceeded our expectations, makes us really proud of our home and draws genuine compliments from all our friends and family, something we haven't really experienced for a long time.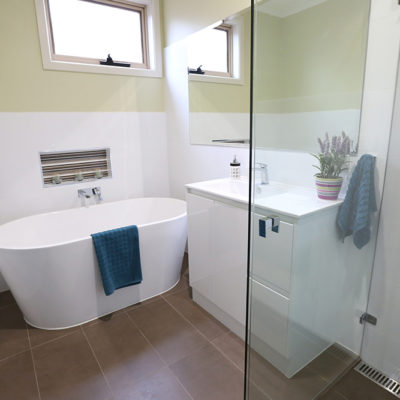 We needed some renovation done around the house so we started with a new walk in robe, and storage room, under an extremely odd shaped roof, a deck and new balcony.
These were all done on time and on budget. Kevin kept in full communication with me at all times, even called to say he is running 5 minutes late, which was great as most tradies just don't care.
We were so happy with the quality of work, communication, cleanliness of the construction area and over all attitude to the renovation. We called him in for a bathroom and then and ensuite update. We pulled the bathroom and ensuite out and Kevin had a blank canvas to start with, both of these areas have come up better then I could have imagined. 
We had a wonderful experience, my mind was at rest the whole time with complete confidence in Kevin. I would highly recommend Ahead building to any one wanting any kind of work done around the house. –  Rhonda Chilcott, Berwick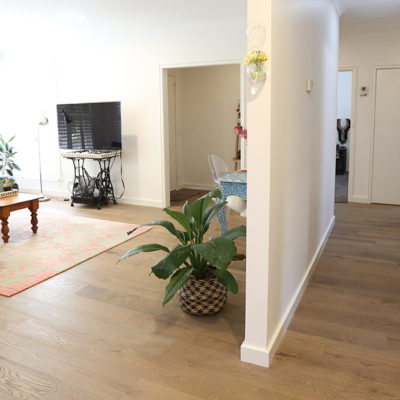 I appointed Ahead Building in mid-2015 to undertake internal renovations to a property I purchased in Hawthorn East. This included moving walls, heating units, flooring etc.
I was specific with what I wanted, and clear with my vision to modernise a 1970's property. I was also specific with the timeframe I had to undertake the works, and budget.
Kevin and his team exceeded all my expectations.
I cannot recommend them highly enough.
They were prompt, tidy, cost effective, but most importantly their workmanship was second to none.
Kevin and his team were accommodating, approachable and friendly to deal with. I soon realised the benefits in asking for Kevin's advice and recommendations as the work progressed.
I was kept informed at all stages, and involved in all decisions and finishes. Kevin was also great at co-ordinating other trades including plasterers, a plumber and electrician. Kevin managed the renovations from start to finish, keeping me updated as the works progressed.   His skill, experience and knowledge was invaluable especially when I was working full time and had limited time.
I adore my new home, and am so thankful I appointed Ahead Building.
 – Eliza Jones, Hawthorn East